Application industry
Port of shipbuilding
-Wire Rope
"Huatianlong", the largest floating crane in Asia, with a 4,000-ton full rotary floating crane, was successfully developed by Shanghai Zhenhua Port Machinery Company on November 21, 2007, and officially handed over to Guangzhou Bureau of Mining.The first task of this Marine "Hercules", capable of lifting 4,000 tons, was to salvage a sunken ship of the Song Dynasty.Huatianlong has a total hull length of 174.85 meters, a width of 48 meters, and a boom boom length of 109 meters, with a maximum lifting capacity of 4,000 tons
The crane is 165 meters long, 48 meters wide and can lift up to 95 meters high. Its main feature is that the lifting arm can be lowered or rotated, which makes it very flexible.According to the introduction, the sea environment changes rapidly, the ordinary fixed jib crane because of its lifting arm can not be put down, meet the bad sea conditions, lifting arm often deformation damage or break.With the birth of the 4,000-ton all-rotary floating crane, it can cope with the harsh environment freely, greatly expanding the sea area that can be covered by our maritime engineering and salvage business.
We use followed wire rope to achieve success in the floating crane;
8 strand Compacted Wire Rope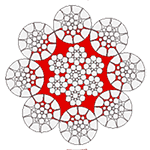 Compacted • 8-Strand • Inner Plastified Wire ropes (EPIWRC)
This wire rope belongs in the non rotation resistant classification but its strands are compacted and it is used mainly as luffing wire rope on high efficiency ship & harbour mobile cranes, container bridge cranes, overhead travelling hoists, mineral loading cranes.
It is an 8-strand construction, very flexible and suitable for use on many crane brands installed on board.
These wire ropes are usually produced as drawn galvanized and internally and externally lubricated, which makes them corrosion resistant and durable against the various harsh marine environment factors.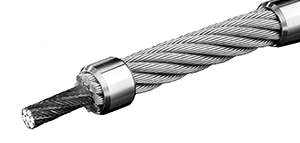 Additionally, these ropes are produced with an extruded inner plastic layer, which ensures water impermeability and elimination of point contact between wires & strands of the inner and outer layers.
This extra protection from corrosion and inner contact, prolongs the useful service life of the ropes.
Attention must be paid in the installation of the new rope on board, its running-in (bedding in) period and load and the inspection before and after every usage.
Diligent production processes, raw material selection and quality control in all stages of production ensure a long and trouble free service life.
Main advantages
Extremely resistant & flexible 8­-strand ordinary lay or Lang's lay rope with inner plastification, suited as luffing & hoisting rope.

Long service life due to inner plastification and reduced rope abrasion, resulting from the smooth rope surface, also exhibiting excellent flexural fatigue properties

Resistance against corrosion due to galvanized wires , the permanent lubrication and inner plastification

Reliability and safety in operation as a result of the highest breaking forces, especially provided by the compaction technology

Exceptional resistance against shock loads and vibrations due to the radial­ & elastic structured rope and inner plastification

Optimal spooling characteristics due to high resistance against radial deformations

Reduced maintenance effort due to intensive lubrication in each production step

Trouble­-free operation
Technical Data
Nominal diameter
Approx. weight
Minimum breaking load
1770N/mm

²

1960N/mm

²

2160N/mm

²

mm
Kg/m
kN
10
0.46
79
87
96
11
0.55
95
105
115
12
0.69
114
126
139
13
0.81
137
152
168
14
0.93
159
176
194
15
1.06
182
201
222
16
1.20
206
229
252
17
1.35
233
258
284
18
1.55
260
288
318
19
1.71
294
326
359
20
1.89
324
359
395
21
2.15
363
401
442
22
2.34
396
439
484
23
2.54
433
480
529
24
2.75
462
512
564
25
2.97
508
562
620
26
3.19
546
605
667
27
3.51
588
651
717
28
3.76
640
708
781
28.6
3.90
659
730
804
29
4.03
682
755
832
30
4.30
740
819
903
32
4.90
842
932
1027
34
5.59
936
1036
1142
36
6.26
1055
1168
1287
38
6.96
1195
1323
1458
40
7.71
1312
1453
1601
42
8.45
1449
1604
1768
44
9.27
1573
1742
1920
---